October 17, 2017
Montpelier Hunt Races
Posted by: Victoria Tourville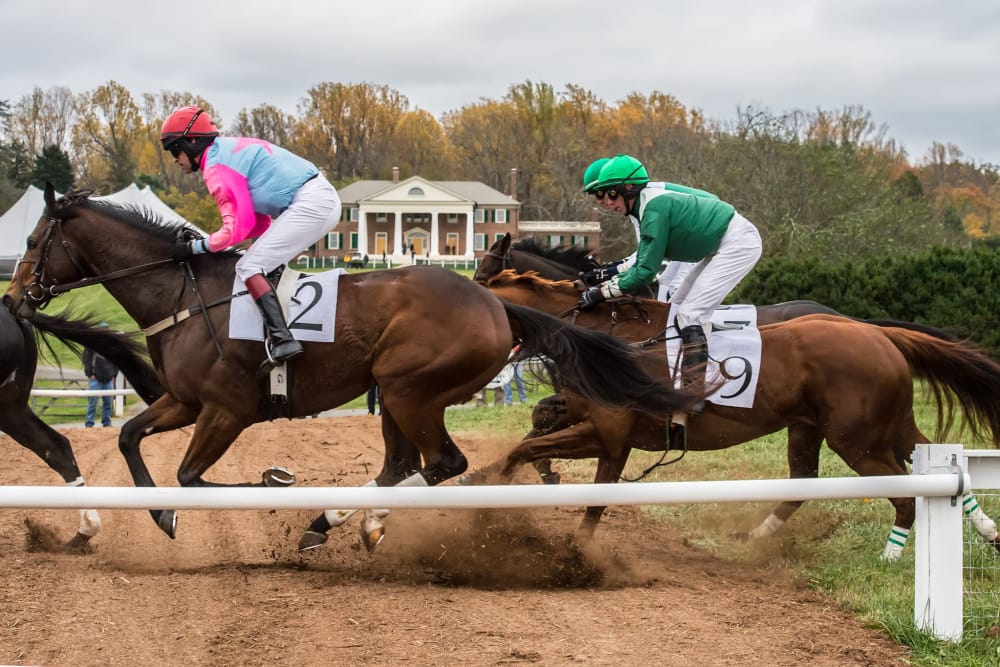 The Montpelier Hunt Races are a beloved fall tradition dating all the way back to 1929. People from all across the state flock to the races to dress up, tailgate, and watch seven different exhilarating races throughout the day. Two of those races take place on the flat track and five take place on Montpelier's first-class steeplechase course. Perhaps the day's biggest draw is Race Number 6, which is run over Montpelier's signature live brush fences. There are also several family friendly races throughout the day, including a Jack Russell Terrier race and a stick horse race.

In 1901, William DuPont purchased the historic Montpelier estate known as James Madison's Montpelier. After his death, Mr. DuPont's daughter Marion inherited the property. An accomplished and passionate horsewoman later considered the First Lady of American horse racing, Marion transformed the grounds into a premier thoroughbred breeding and racing facility. With the help of her brother William DuPont Jr., they added the state-of-the art steeplechase course and flat racing track where the races take place today. In 1929, Marion inaugurated the first ever Montpelier Races and they have been a beloved tradition ever since.

If you have never been to the horse races before, you'll quickly learn that they are an all-day affair. Races typically begin at 12:30 and end around 4:30, but there are lots of things going on before and after. Tailgating before the event is an important part of the tradition, so come with your own food and beverages and be ready to snack and socialize long before the races begin. Dressing up for the big day is also part of the fun, and many attendees choose to wear their biggest hats and compete in the annual Hat Competition. If you attend the races, you will also get to visit James Madison's Montpelier at a greatly reduced rate.

James Madison's Montpelier is one of the premier tourist destinations in Orange County, Virginia. It was the lifelong home of the fourth president of the United States, who lived there with his wife Dolley until his death in 1836. The beautiful main building makes a stunning backdrop for the horse races, but it is also a fascinating tourist site in its own right. During your visit, you can take a historical tour, browse many fascinating exhibitions and galleries, and explore over 8 miles of beautiful walking trails that take you past old-growth forests and wildflower meadows. The Montpelier Hunt Races are the perfect chance to witness a classic Orange County tradition in a beautiful and historic setting. Visit the Montpelier Races website for information about ticketing, location, and more.

Coming to Orange County for the Montpelier Hunt Races? Why not book a stay at one of Montpelier's excellent member inns? Browse our offerings and make a booking on our website.