July 24, 2017
Member Spotlight: Uphill House Bed & Breakfast
Posted by: Victoria Tourville

There are many reasons to visit Gordonsville, Virginia. Some come for the history. Some come for the mountain views. Some come for the wine. And some come for all three. The Uphill House Bed & Breakfast is the perfect choice for anyone coming to Gordonsville to enjoy one or all of these things. Nestled in a peaceful patch of woods near some of the region's best vineyards, the Uphill House B&B is a popular choice for oenophiles from all over the country.
Perhaps the most famous winery in the region is the Barboursville Vineyards. Barboursville combines delicious wines, important historical sites, and beautiful natural surroundings all in one place. Barboursville Vineyards is located on the former estate of James Barbour, the 18th governor of Virginia and United States Secretary of War. Surrounded by the soaring Blue Ridge Mountains and rolling foothills of the Virginia Piedmont, Barboursville is set in a lovely pastoral landscape rich in both history and beauty.
It is easy to spend an entire day at Barboursville. You can roam the magnificent grounds, enjoy a picnic on the sprawling lawn, and of course, taste some of the finest wine Virginia has to offer. Visit their Tuscan Tasting Room every day of the week for an informed and enthusiastic introduction to the vineyard's current vintage wines. On the weekends, Library 1821 offers a rotating sampler of some of the vineyards older, classic vintages. Library 1821 is a large, beautiful room filled with many important historical documents, including a letter written by President John Quincy Adams, as well as many of the Barbour family's original household china.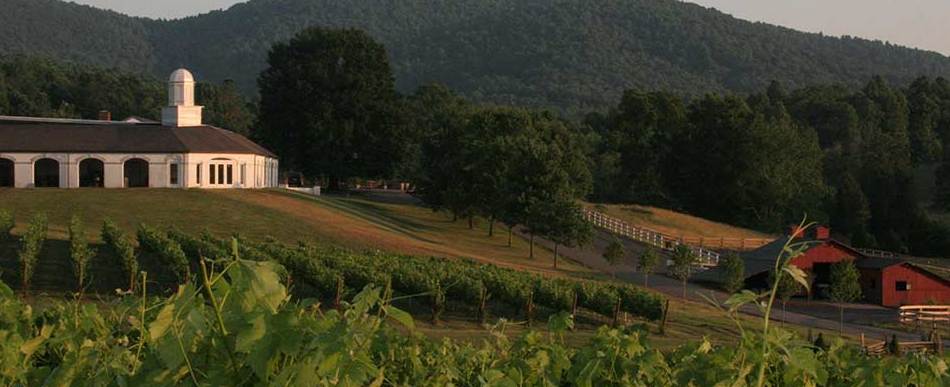 After your wine tasting, make your way to the Landmark Ruins, located a short stroll away from the main building. Thomas Jefferson gave the Landmark Ruins to James Barbour as a gift. Jefferson designed the estate in the Palladian architectural style of his own Monticello, which was itself inspired by classic Greek and Roman architecture. The Landmark Ruins is an important piece of American history and an awe-inspiring architectural marvel. Whether or not you consider yourself a history buff, it is certainly worth the trip.
Though Barboursville is the most iconic vineyard in the region, there are many others to explore during your time in Virginia. Here are some of the Uphill House's favorites:
After a busy day of tasting wine and exploring Gordonsville, you will want a comfortable and welcoming place to rest your head. The Uphill House B&B has truly mastered the art of providing each guest with a real "home away from home" experience. You can play a board game or listen to records in their inviting living room, relax on the porch, or roast marshmallows and stargaze by the outdoor fire pit. The Uphill House offers easy access to the region's many wineries, historical sites, and outdoor activities, making it a perfect choice for anyone who wants to explore the Virginia Piedmont while still feeling right at home.
Planning a trip to Virginia for wine, history, or the Blue Ridge Mountains? Book a stay at the Uphill House Bed & Breakfast for friendly service and easy access to the region's premier attractions